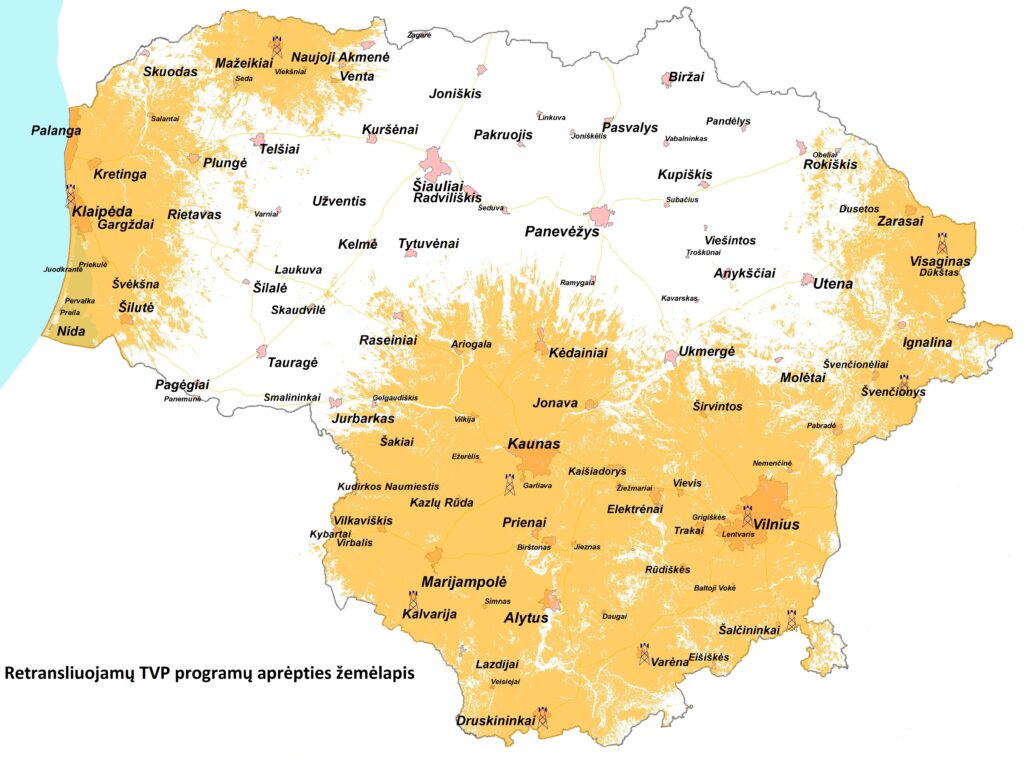 Telecentras, Lithuania's major free-to-air TV network operator, informs that in accordance with the agreement with the Polish public broadcaster Telewizja Polska S.A. (hereinafter – TVP) the coverage area of the TV programs "TVP Wilno", "TVP Polonia", "TVP Info", "TVP Historia 2", "TVP World" and "Belsat TV", was expanded more than three times.
Previously, these TV programs were broadcast in the Southeast Lithuania region and about 21% of the country population could watch them. With the installation of more TV transmitters and the expansion of rebroadcast coverage, the TVP programs can now be received via antenna in two thirds of the country's territory where 70 % of the population lives.
Currently, the abovementioned programs are sent from 10 TV towers located in Vilnius (Vilnius TV tower), Juragiai (Kaunas district), Giruliai (Klaipėda city), Mažeikiai, Šalčininkai, Švenčionys, Visaginas, Varėna, Druskininkai and Kalvarija.
These TV programs can be received through indoor or outdoor antenna in the following areas of the country: Vilnius (city and district), Kaunas (city and district), Klaipėda (city and district), Alytus (city and district), Visaginas, Kalvarija, Neringa, as well as districs of Šalčininkai, Širvintos, Trakai, Švenčionys, Ignalina, Zarasai, Varėna, Druskininkai, Lazdijai, Marijampolė, Prienai, Vilkaviškis, Šakiai, Jurbarkas, Jonava, Kretinga and Mažeikiai.
TVP programs can also be received in a large parts of the following districts: Rokiškis, Utena, Molėtai, Ukmergė, Kėdainiai, Raseiniai, Jurbarkas, Šilutė, Rietavas, Plungė, Telšiai, Skuodas and Akmenė.
People who live in areas falling within the rebroadcast coverage area could already notice new channels appearing in the TV channel list on their home televisions. For those whose TV's have not automatically started displaying TVP programs, it is recommended to launch an automatic channel search.
Residents can also consult Telecentras specialists regarding the reception of TVP programs via antenna by phone 8 (5) 200 15 15.